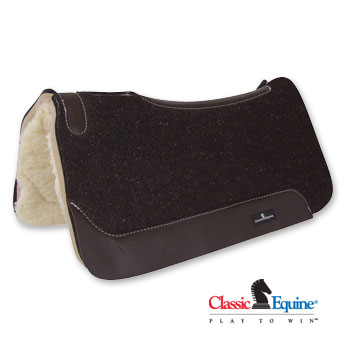 SensorFlex Felt Top Pad
Product NO: SFP132
The SensorFlex Felt Top saddle pad combines the shock absorbing, time tested favorite qualities of a traditional felt pad with an ultra soft, moisture wicking fleece bottom.
This pad offers added comfort for your horses and long lasting durability. With a sleek contour design, the SensorFlex Felt Top Pad molds to fit any conformation and top line.
5/8 heavy wool felt center absorbs shock and contours to the horses back to keep the blanket from shifting.
Ultrasoft, heavy 28 oz fleece bottom is comfortable and helps wick away moisture. 3/8 wool felt top.

Size: 31"x32"

Thickness: 1"