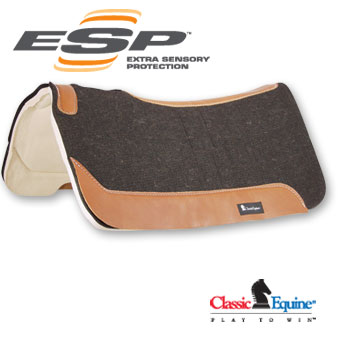 ESP Felt Top Pad
Product NO: CESPF1
3/8 wool blend top offers superior shock absorption and protection, and resists compression and matting for a longer life.
1/2 memory foam middle layer is extremely conforming and temperature sensitive. It continuously molds and conforms to the shape of the back then rebounds to its original shape when pressure is removed. This minimizes pressure points and relieves body stress. It is open cell, allowing airflow through the cells and pulling sweat away from the horse.
5/8 orthopedic grade felt bottom soaks up moisture, allowing heat to dissipate away from your horses back. It conforms to the horses back while maintaining density, and provides excellent shock absorption.

Available Size: 31"x32"